The condition is coming and slowly day by day I am finding the legs again. It has been just over 3 months now since I was able to get back onto the bike and start the journey back to fitness and prepare for the Absa Cape Epic and to date things are going better than I had hoped. I started back with shorter hard threshold based efforts of no more than 1 hour and this built up to 2 hours by the end of 6 weeks.
My FTP which started out at 280 watts with a 20 minute effort of 299 up a local climb quickly climbed up to a 20 min of 360 just before Xmas. Into the new year I rode the Jayco Bay Crits with my new road team Torq/Bss and finished in the leading bunch in 2 of the 3 races and felt ok. I was lacking the intensity and race legs to be competitive, but, I was racing and getting through without any back issues. I was and still am getting pain down my left leg, but, it is residual nerve damage and may last for some time, so, I just put up with it and get on.
After the Bay Crits was the National ITT Champs and again I rode ok about 40 watts down on what I have held for PB's and 20 watts down on what I had set for myself and I think I was still suffering a little fatigue from the Bay Crits as my CTL was still very low and my ability to recover and back up hard sessions compromised by my lack of base condition. I came in 28th with a time of 53.12 and I think with my best numbers another 2 mins could have been taken from the time putting me up to around the top 15 where I finished 2 years ago.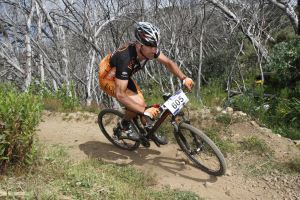 I have just competed in the Buller Nats round on the MTB, Wildside and this weekend at Mt Stromlo for another Nats round before flying down to Adelaide in 2 weeks time for the MTB National Champs. I am starting to find the legs and won a local Road Race here on Sunday with a breakaway and feeling strong and ready for the volume to start in prep for The Cape Epic.
I would like to say a massive thank you to all my sponsors for their continued support through the tough 2011 season for old Fenz. A big shout out to Dean and Gen from Torq, Hayden and Guys at Monza, Hidtech, Ozriders and AussieButt Cream. Look out 2012 because I am hungry for a big year both on the dirt and on the road.
Catch ya on the trails soon
Fenz