There are numerous power meter options these days but what features will you need to consider when purchasing one? Here are the top picks for 2016. We look at power meter terminology, viewing your data, identifying your strengths and weaknesses.
BUYING A POWER METER: WHICH POWER METER IS RIGHT FOR YOU?
HAMISH: Someone walks into the Watts Factory on a Monday morning, what are the key questions that you need answered to help them choose the right power meter?
DAMO: First off we need to know what they intend to use the power meter for; are they road, mountain, track, time trial or triathlon cyclist. Are we looking at it staying on one bike or being able to interchange between two bikes? Also physically, what brand bike they are riding?
This is important due to bottom brackets and crank clearance issues. As an example, a Powertap may be a great training option for a rider with a road bike and a TT bike as it can be easily swapped between bikes but as soon as the race wheels go on the power meter comes out. Establishing the primary use for the power meter will help us to decide which meter will suit the athlete best.
HOW DO VARIOUS BRANDS DIFFER?
Typically, with different brands we see a different method of measuring the power output (see previous article). For example, Powertap in the wheel hub, Garmin Vector Pedals,Quarq, SRM and Rotor in the spider of the crankset, whilst with Stages, Pioneer and 4iii the sensors are bonded to the crank itself. All power meters will quote levels of data accuracy. The method of power measurement will affect the overall accuracy. SRM use eight strain gauges which provides a smoothness in the power data better than any other brand. Stages on the other hand simply multiplies data from the left leg by two to give the overall power measurement. Several power meters offer left and right balance: Pioneer,Quarq,Rotor and Info Crank to name a few.
WHICH FEATURES DO YOU SEE AS ESSENTIAL AND WHICH COULD BE CLASSED AS EXTRAS?
It comes back to application, what do you want the power meter to do? If you simply want a number to look at, that is consistent with effort, then a single sided power meter would be fine. If you need to see both left and right legs or power balance, then a power meter that measures left and right data is essential. Power balance is far from essential to the average rider, but someone who has a known lower limb issue or discrepancy may benefit from dual sided data. If higher accuracy is required, then a dual sided is also preferable. Vectors, Powertap P1 and Pioneer also look at pedal efficiency. This is nice to have and cool to look at but unless you know how to use the data that is presented it can be of limited benefit.
ARE THERE ANY TRAPS THAT POTENTIAL BUYERS CAN FALL INTO WHEN LOOKING TO PURCHASE A NEW POWER METER?
There are several different bottom brackets out there, these days up to seven or eight at last count, so not all power meters will fit every bike. Making sure you pick the correct power meter for your bottom bracket and frame is a must. Paying extra for a top of the range power meter, that gives you tons of data, only adds value if you intend to use it or have a coach who will do it for you. So choose a power meter that provides the level of information that suits your needs.
IT SEEMS LIKE OVER THE LAST FEW YEARS THERE HAVE BEEN NEW OPTIONS COMING ON THE MARKET ALL THE TIME. WHAT SHOULD WE BE ON THE LOOKOUT FOR IN 2016?
Good question, the day is coming when power meters will be integrated into the cranksets and you will be able to buy a bike with a pre-installed power meter as part of the groupset. This will make a big change to the third party manufacturers and suppliers. At this stage however, it is possibly still some way off. For now, power meters that are bonded to the crank seem to be the preferred option. Working with carbon cranks and getting accurate and reliable data also remains on ongoing issue. Pedal based systems are continuing to grow in popularity with more beginning to appear on the market.
WITH ALL THIS TO THINK ABOUT, HOW DO I MAKE THE RIGHT DECISION?
You need to consider the following: cost, application (bike brand/type, racing or training and one bike or two), fitment (will the power meter actually fit your bike) and data requirements. Once you consider these four factors the brands available to you will be narrowed and choices can be made. Once you've chosen and installed the right unit for your needs, the question becomes "How do I view, log and review my data?" First let's do a quick review of some common power training terminology that will be useful in helping understand the data.
POWER TRAINING TERMINOLOGY
I don't want to dig too deeply into training terminology. However, having an understanding of these terms will allow you to more efficiently and effectively utilize your new toy:
Functional Threshold Power (FTP): First proposed by Dr. Andy Coggan, this term refers to a rider's highest sustainable power output over a 45-60 minute time period. FTP is commonly used by cyclists as a way of establishing training zones and monitoring changes in performance over time. The most common FTP test involves determining 95% of the average power from a 20 minute all out time trial.
Intensity Factor (IF): This is an indication of how hard you are working in relation to your FTP. It can most easily be thought of as a percentage of FTP.
Normalised Power (NP): Power output during most cycling races and training sessions is not a consistent effort. This inconsistency comes at an increased metabolic cost. The calculation of NP attempts to predict the power that could have been maintained for the same metabolic cost had this effort been perfectly constant.
Stress Score (TSS): Is a method of quantifying the work load of a particular session which takes into account both intensity and duration.
VIEWING DATA WHILST RIDING:
The simplest and most important place to access and view the data that you generate from your power meter is on a headset whilst riding.
The most common brand of head unit on the market today has to be Garmin though other models such as Magellan are starting to make some headway into the market. The head unit allows a rider to view and monitor their power metrics whilst on the bike. Live power metrics can be used for prescribing training intervals, judging pacing whilst racing, monitoring recovery and training load, just to name a few.
All head units allow a rider to select a wide variety of variables to be displayed on the screen at any one time, however screen real estate can be at a premium. It is important to carefully select the metrics that you display and make sure that they are relevant to your current ride or training session.
On a regular ride my favourite way to display power meter data is as a three or five second average which works to smooth out the fluctuations which inherently occur in power output. This allows the athlete to work towards holding a more consistent effort without worrying about second by second power fluctuations. Workouts can also be downloaded onto the head unit and alerts can be preset to tell a rider when they are working too hard or too easy.
REVIEWING YOUR DATA
With all power meters it is possible to record and log data so that it can be reviewed at a later date. This data is usually used in association with other data collected at the same time including GPS position, heart rate, speed and cadence.
The major reasons for logging your data and analysing it are:
Identifying strengths and weaknesses
Evaluating the effects of equipment and positional changes
Analysing racing and training
Multiple programs exist to make the best use of the data but I would highly recommend these three particular programs that I have found to be useful in the past. They are; Today's Plan, Training Peaks and Golden Cheetah.
All three of these programs provide a platform from which to review your training data and can be easily found with a quick google search online. They provide a wide range of in depth comparison methods which allow an athlete or coach to conduct a thorough analysis of a rider's training and racing.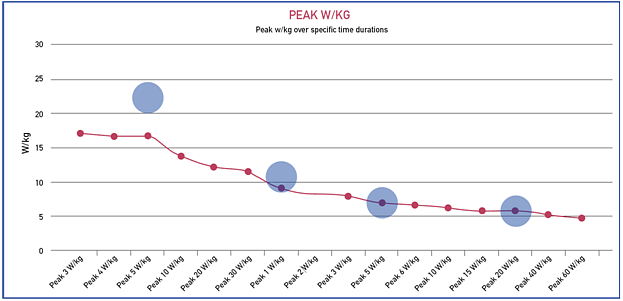 IDENTIFYING STRENGTHS AND WEAKNESSES
One of the most common uses of power meter data is in talent identification and analysing an athlete's strengths and weaknesses. Once an athlete has been utilising a power meter for more than one or two rides we start to build a data base of what they are capable of. This is most easily expressed via the power profile curve.
The power profile curve lets an athlete or coach look at the power output in watts/ kg over a large variety of time frames. The blue circles in the graph above represent what we would consider to be the power output of a professional cyclist. However, we would not necessarily expect an athlete to have an elite power output across the whole spectrum. In this case we can see that our athlete has a very good power output over the five and 20-minute time periods but would not be considered to be a professional sprinter. This graph allows us to determine how a rider performs relative to their peers over a variety of time periods.
POWER DECAY CHART
By looking at the power decay chart we can take a detailed view of the top end of the power profile for a given ride. For the rider in question here we can see that the rate of decay in his power output dramatically increases at around 15 seconds. What this means is that for this rider to make the most of his sprint he really needs to keep it under 15 seconds, but probably more like under 12, if he is to maximize his effort.
In the next article we will continue to expand on the methods of analysing training and racing data as well as helping new users get their head around some of the most common graphs and tables they are likely to come across.

(this article originally appeared in Bicycling Australia Magazine)