Cube AMS Super HPC Race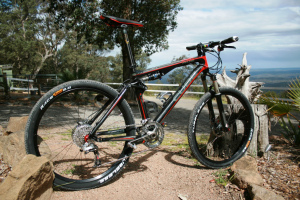 In a word wow, before I go into the finer details of the new Cube I will give you a little background of my riding style and level so that the report will enable you to make a better comparison of how it will suit you.
I am a (now) 40 year old elite MTB rider who has great fitness, but, I have always felt slightly lacking in the technical skills department. I can ride and sometimes fast, but, compared to the best technical riders I will get dropped so I need a little extra help when I can get it.
For the past 7 years I have ridden for Specialized and have ridden the Epic with its brain shock and until I cast my leg over this rig I was blissfully unaware of just how unforgiving the brain had been, Sure with the lockout it climbed well, but, so does a hard tail eh! Going downhill fast needs a suspension system that is fully active and super compliant and yet retains good pedalling performance through good design and not a type of lockout.
The Cube has this and a bag of chips, it was simple awesome at Stromlo and although I was out the hoop in the Worlds (see blog for report https://ftptraining.wordpress.com/ ) On the d's it shredded the track and enabled me to out descend Cory Wallace and towards the end of the race the technically gifted Andy Fellow, Andy is a far smoother and better bike rider that me and I can only attribute the speed of the D's to the bike.
Now then onto the ride, straight up the Cube AMS as with the hard tail and road bike is finished superbly well, it just oozes class and top quality. The oversized head tube creates incredibly stiff and precise steering control in all situations, point it and it goes. This is directly linked to an uber stiff rear end and bottom bracket area.
It is this area that most full suspension rigs are generally let down and the flex in this area can lead to the bake not tracking very well and feeling like it will not hold the line in tight and fast corners. The Cube simply again does what it is told and controlled to do. Down through the Pork Barrel and Berm tracks the bike just smashed it and smoothed everything in its way and flew along. For the first 6 hours of the race I used the pro – pedal setting on the RP23 and it performed well, but, when I flicked the switch to fully active oh my god it was just so, so smooth.
On the climb, with the pro – pedal setting engaged it was rock solid with only a hint of movement when powering out the saddle. When pedalling smoothly in the saddle it was barely noticeable and enabled loose and rutted areas to be ridden with ease by maintaining tyre contact and grip.
With the pro – pedal off it was a little softer, but, it was only noticeable when out the saddle and the efficient design of the suspension maintained a great ride. If the course is super rough I would ride with it fully active and make the most of the rigs awesome downhill ability.
Now for some stats, for a start the medium rig with a set of 1600g wheel and 600g UST tyre came in at 10.5kg, so getting this bike way under 10kg would be no worries at all. The Cube was set up with full Sram XX Group-set and it worked flawlessly and is the gold standard out there at the moment for sure. Another great thing was that I was able to fit 2 x bottle cages and a full suspension rig that enables a double bottle set up is just great for an endurance racing machine.
[one_third_last]
Bottom line this is awesome and will enable you to descend faster than ever before and set up correctly climb like a scalded cat due to its efficient suspension design and light weight, so what are you waiting for, find out when the new 2011 rigs will hit the shore and go and have a ride, you will not be disappointed.